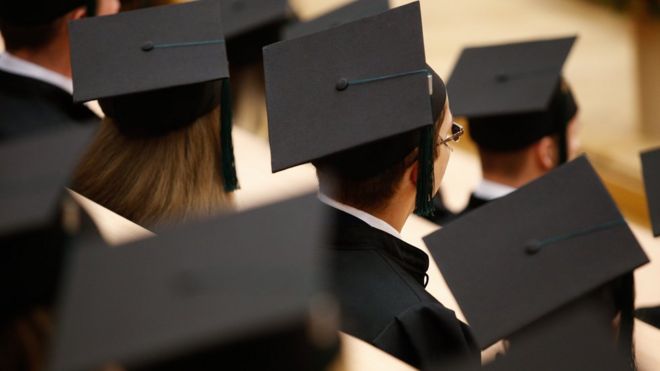 Making multiple monthly student loan payments to various servicers can be complicated, leaving borrowers searching for an easier solution.
If you're among that group, you could research the best student loan refinancing rates to simplify your payments and possibly lower your monthly bill.
However, lots of lenders are eager for your business, and it's often hard to know which financial institution to choose.
We can't make that decision for you. But we can help you with a student loan consolidation comparison so you can compare student loans and choose the best option.
Determine your goals for consolidation or refinancing
There are several reasons to refinance your student loans. At first, it may seem like the right strategy to focus solely on the best student loan refinancing rates. But borrowers' goals may vary, so it's good to know what you're looking for before researching and selecting a student loan refinancing lender.
Here are three goals you may have when refinancing.
1. Saving on interest
Lenders may view you as a lower-risk borrower now that you're out of school compared to when you were a freshman. Because of this, during your student loan consolidation comparison shopping, you may find that lenders reward lower-risk customers with lower interest rates.
How much less could you pay? Let's imagine you have $20,000 in student loans at a 6% interest rate, which you're repaying over 10 years. Using our student loan refinancing calculator, you'll see your monthly payment is $222, and that you'd pay $6,645 in total interest.
But if you could lower your interest rate to 5% while staying on a 10-year term, your monthly payment would drop to $212 and you'd pay $5,456 in interest — a savings of $1,189.
2. Lowering monthly payments
Private and federal student loans usually have a 10-year repayment term. But there are flexible loan repayment terms, with some stretching as far as 25 years.
Longer repayment terms almost always mean lower monthly payments. But you'll also likely pay more in interest over the long run. Lower payments can be a good choice when you're starting out and cash is tight.
If you've got a little extra cash at the end of the month, you can always make an extra payment, which will reduce the time of your loan and the amount paid toward interest.
3. Removing co-signers
If you're trying to become independent, you don't need the stress of having co-signers while you're paying your student loans. Refinancing, especially if you've got a good job, can remove Mom and Dad from your student loans.
There may be other reasons you wish to refinance and consolidate, too, including switching student loan servicers, making only one payment and paying off student loans faster. No matter your reasons, keep them in mind as you student loan consolidation comparison shop.
Look for a refinancing offer that accomplishes your goals
There are plenty of lenders willing to consolidate or refinance private student loans, and it's sometimes hard to know which one to select.
First, read the eligibility requirements, which differ with each lender. Most — not all — will refinance student loans only if you've graduated from college or a graduate program and have good credit, a steady job and a favorable debt-to-income ratio.
If you qualify for refinancing, select a lender that offers terms that best suit your needs. There are certain loan features you should consider when making your decision.
1. Rates
Loan consolidation rates are all over the map, ranging from 1.95% to 10.47%, depending on your credit.
Of course, if saving money is your top priority, you should seek out the lender with the best student loan refinancing rates. But unless you've got a great job and a high credit score — unusual for people just out of school — you'll have to accept the best rate you can get.
2. Loan rate types
Lenders typically offer fixed- and variable-rate loans. Fixed rates usually start higher than variable rates, but variable rates can start low and end up high by the end of the loan, though most have a cap.
Whichever you select will depend on the monthly payment you can afford, as well as how much risk you can tolerate regarding future rates.
3. Terms
Lenders typically offer loans you must repay over five to 20 years, but some lenders will only go to 15 years. The longer the repayment time, the lower the monthly payment — but you'll ultimately pay more in interest over time.
4. Eligible degrees
Most lenders will let you consolidate private and federal loans for both undergraduate and graduate schools. However, many lenders want to see a degree before refinancing your loans. Plus, some lenders only accept degrees from certain schools, so you'll want to check lenders' lists of eligible institutions first.
5. Unemployment protection
Many lenders understand that newcomers to the job market often switch jobs during their first years as a working adult — indeed, the data backs this up.
According to the U.S. Bureau of Labor Statistics, employees ages 55 to 64 have a median tenure at their jobs of just over 10 years, while employees ages 25 to 34 have a median tenure of less than three years.
Lenders understand that job-hopping is a function of youth, and some will allow you to pause payments while you're looking for work. However, take into account the conditions when you can request deferment, as it varies for each lender.
6. Loan discounts
Some lenders will give you a 0.25% interest rate discount if you allow them to automatically deduct monthly payments from your bank account. Other lenders will give you another small discount if you maintain a bank account at their institution.
7. Co-signer release
Lenders know that neither you nor your parents want to be linked by debt forever. Some lenders will release co-signers if you make timely payments for a certain period.
The Consumer Financial Protection Bureau in 2015 — the latest data available — found that 90% of borrowers who applied for co-signer release with a private student loan were rejected. Keep that 90% figure in mind as you consider co-signer release.
Looking for refinancing options?
When it's time to compare student loan refinancing options, you may find that many lenders offer similar terms and benefits. Here are a few standouts looking beyond the best student loan refinancing rates:
Earnest: Allows free refinancing, the ability to change payment dates and the opportunity to skip a payment every year (to be made up later).
SoFi: Offers an entrepreneur program where eligible customers can get a deferral while they receive mentorship.
LendKey: Offers unemployment protection for 18 months and releases co-signers after 12 months of timely payments.
Laurel Road: Helps refinance loans parents have taken out to pay for a child's education.
CommonBond: Offers access to networking events and hires eligible job-seekers for short-term consulting projects at the company.
College Ave: Features a three-minute application process and flexible payment terms.
Which financial institution should you choose?
Which of these qualities are most important? Would you be willing to pay a slightly higher interest rate in exchange for unemployment protection or a co-signer release? Are you more interested in lowering your monthly payments or improving your loan terms?
Your answer will depend on a multitude of factors, including your job prospects, income, family situation and other personal considerations. Compare many student loan refinancing options to decide which one fits you best.